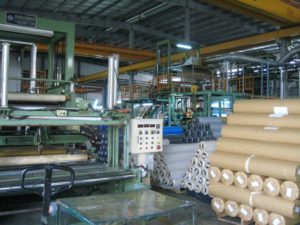 We are the leading PVC manufacturer with Thai and Canadian shareholders that have long been in the PVC industry for 30 years. Due to our long term experience in this industry, we have been the top PVC supplier worldwide. One of the PVC factories of PVC materials, we are based in Thailand and we are actually housing 7 calendars with 3,000 metric tons production capacity every month.
We are the PVC supplier for vinyl flooring (more than 1,000 designs and colors), artificial leather, decorative film and plastic sheeting and vinyl tablecloth We provide the best quality artificial leather from the borders of Lao and Vietnam. We also supply raw material and resin to other PVC factories in Thailand and to other parts of the world with an affordable price in different designs to fit any market or condition.
We take pride in having QA research personnel and qualified engineers for innovative products from our high performance facilities. Also included in our products are high end children safety products, Non Phthalates, FR, UV and a variety of marine grade materials. Also, we manufacture clear films, laminated wood grain overlay, PVC suede sheets, ErasisX and many other PVC materials.
Our customized PVC materials are offered to meet your needs and suit your customers. The artificial leather is one of our economical products in backing, thickness and embosses. Through our own backing, we provide affordable prices in right delivery time. Being the top PVC manufacturer with efficient sales officers, we are known in the industry as PVC supplier worldwide. Not only have we given high quality products but also the best delivery and service as much as possible.
Apart from a wide range of PVC factories, we make a difference through supplying to limited companies and clients while offering them best rates in the market. It would be a privilege to provide you quality prices and services. Requests for current price list and product catalogues are well taken care of for further information regarding our company.
As an excellent PVC manufacturer, we cater to 120 customers, 50 countries and 60 applications. We have been the best PVC supplier to service in a very wide range of clientele, may it be a small enterprise to huge companies. Experience high quality PVC products supplied by us in a very affordable rate that is perfectly modified for each client's requirements. We continuously create innovations to meet the changing needs of every client and to be able to provide them only the best.
If you are looking for high end PVC supplies, we are the right company to service all your PVC needs. Talk to us and get the best deal and benefit from our innovative and uniquely designed PVC materials from floor coverings to ErasisX protective finish. You only need to specify your requirements and let us take care of the rest. In our company, you get the most efficient deals and make your own business and personal materials distinct from other PVC-related products.
What are you waiting for? Contact us now and see how we work!